Although it has not been easy for anyone to endure the months under COVID-19, it's been especially difficult for all those involved in education. Students, teachers, and administrators have found themselves facing an unknown, unexpected, and uncertain reality.
As we try to close the school year in the best possible way, we begin to think about the challenges and uncertainties that lie ahead as we think of returning to school this fall, and about how we build up from this experience of almost three months of distance education. We find hypothetical solutions that allow us to have peace of mind during the summer feeling that we are prepared to assume a hybrid virtual and in-person teaching experience.
It's in these moments of reflections when we must ask ourselves: What have we learned from this pandemic? What have we found out about ourselves as educators and about our students? What message has this situation of change and isolation brought to our teaching lives? Will we be the same educators once we return to "normal" school? Will we have the same students we had before schools were closed? Has the world changed?
So many questions remain, so much to solve. But if one thing is certain, it is that like any problem that comes up in life, COVID-19 is an opportunity to see things in a different light, an opportunity to reflect on what we have done, and how we've done it. We cannot miss the chance that this great challenge has given us. Never before have we had in our hands the possibility of reinventing ourselves, of reinventing education, society, of beginning to build a more hopeful future.
We are so focused on finding quick solutions that will allow us to teach the same curriculum in different circumstances, that we forget the question that matters most: what have we learned from this crisis to become better educators? What if the solutions are not in all the digital tools, courses, webinars and tricks that constantly barrage us online? What if we stop this frantic race in search of the quick fix to address immediate curricular concerns and not focusing on the rich extra-curricular aspects of the holistic educational experience? Let's try to slow down, and we will surely discover that the answer to an adequate post-COVID-19 education is right in front of us. All it takes is to open our eyes wide and sharpen our listening.
I did a small survey via Twitter, asking teachers about what the pandemic had taught them during these months. Among other answers I highlight those that suggested ideas that we can apply in our teaching next year.
"I have been able to discover skills that I did not know I had." What skills have you discovered during this time that can help you innovate in your instruction? I have found it easy for me to learn Italian, so I will teach my students a few words of Italian next year.
"I have realized that I miss the interaction in the classroom." Do we have established interaction routines? Do students spend a lot of time sitting? How can we make our class a permanent space for linguistic and cultural interaction?
"I realized that I am resilient." It is natural to have difficult times during the school year. The pressure of the results, the projects, the tests and all the administrative paperwork can get us so stressed that sometimes we want to change our profession. We must remember that we are resilient, that it is proven that no other profession has the daily interactions that a teacher has.
"We must work in a sustainable way." Having had to simultaneously manage our home and our work has left us a clear lesson: we must manage our environment in a sustainable way. Sometimes we want to do more than we put into it and this creates professional frustration. We must understand that our instruction is in some way a reflection of the resources we have.
"You don't need a classroom to be called a teacher." Many of us feel that we managed to connect and help our students despite the distance and difficulties. Being connected to students beyond the classroom brings great benefits. An email or a greeting card can do wonders when we return to normal instruction.
These past two months of remote instruction and drastic changes to the way we teach have shown us that what is really important are those essential things we seem to forget about on a regular basis. We have learned to value our health, friendship, the outdoors, exercise and personal interactions. We must make an effort to return to school with a lighter bag of tricks, with less digital tools, with less artifice to avoid widening the gap between students and teachers.
Our main goal should be to let the children be themselves. Allow them to enjoy a first day in which they can connect with their friends, with the environment and with teachers. Let's make FDOS what should always be a celebration! We must welcome our students with open arms full of freedom and not heavy with classwork, homework or academic responsibilities. Let's allow them to for at least one day, teach us a new and different way of educating.
If there is one thing that the pandemic has taught us, it is to pause, to leave behind the rush, to become observers and to understand that essential things are the only important things in life and therefore in education as well.
Thank you to the following teachers who very kindly responded to my Twitter survey: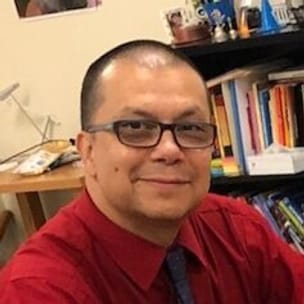 Diego is a passionate Spanish teacher and an accomplished world language presenter. A native of Bogotá, Colombia, with many years of experience teaching in his native country and in the United States, Diego brings a refreshing, cultural awareness and innovative perspective to the teaching of the Spanish language.
More from Diego