About
Angelika Becker, native of Germany, teaches German levels I, III, AP and IB at Carmel High School in Carmel, Indiana. She earned her BA from Indiana University and her MA in Curriculum and Instruction with Focus on German Language Pedagogy through the GOLDEN Program at UNL. She served as chair of the AATG Kinder- and Jugendliteratur Committee and in addition to her work as an Advanced Placement Consultant, she gives workshops across the US.
Angelika has been teaching all levels of German and education classes for over 25 years. She is thrilled to be given the opportunity to share her knowledge with teachers in a variety of settings.
Her other professional interests include developing teaching units for Kinder- and Jugendliteratur, films, music, and current events incorporating multiple intelligences and differentiated instruction. An active GAPP exchange and regular participation in the Indiana academic student competition "Staatskongress" give her students opportunities to learn outside the classroom.
Angelika has been an integral part of developing the Scope and Sequence for InterKulturell and as part of the author team of InterKulturell 1, along with Cynthia Chalupa, Peter Chase, and Debra Mol.
She is hopeful that InterKulturell 1 will help students discover their love for the German culture and enable them to start their language journey that will lead them to proficience.
Angelika's Programs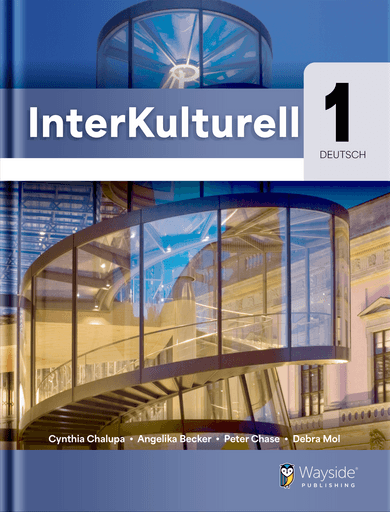 Textbook