The Challenge: How do I structure practice for intermediate high AP® students in a way that meets their individual needs and interests without boring them and still appease the "Gradebook Beast" (who must be fed a steady diet of numbers at least every two weeks)?
The Answer: I don't structure it. Or rather, I provide a loose framework and a bank of resources so that students can self-select practice that they find relevant and motivating at the time.
When I set out to revise my AP® French Language & Culture curriculum in the summer of 2018, I knew that I wanted to implement some of the practices that I have honed through the process of writing the French language textbook EntreCultures 2. (Wayside Publishing 2020). My improved understanding of how to tailor a Can-Do statement to my particular classroom units and how to structure simple student reflection has resulted in what has been the perfect launchpad for reflection and student feedback.
The Can-Do Statements
I began by refining my learning objects for each unit of instruction for the first semester. I used the language of the ACTFL-NCSSFL Can-Do Statements at Intermediate-Mid to -High and customized them so that they suited my course content. In order to keep the list from getting too onerous, I decided to include one Can-Do per assessment and then added what I call "component goals," which I used for daily lesson objectives. These component goals were still communicative in nature (E.g., I can hypothesize about what would or could happen.), but they often pointed more obviously to a lexical or structural function that would scaffold students toward being able to master the primary Can-Dos.
I organized the Can-Dos into a simple progress tracker where students could record the date they reached "I can do this on my own," "I can do this with support," or "I am still working on this." On the first day of each unit, I required students to enter the day's date where they saw themselves. From there, the devoirs autonomes began.
The Task
Of all my crazy teaching schemes over the years, this one was the easiest to explain to students. In a document that included the Can-Do progress trackers for all the semester units, I provided the following instructions: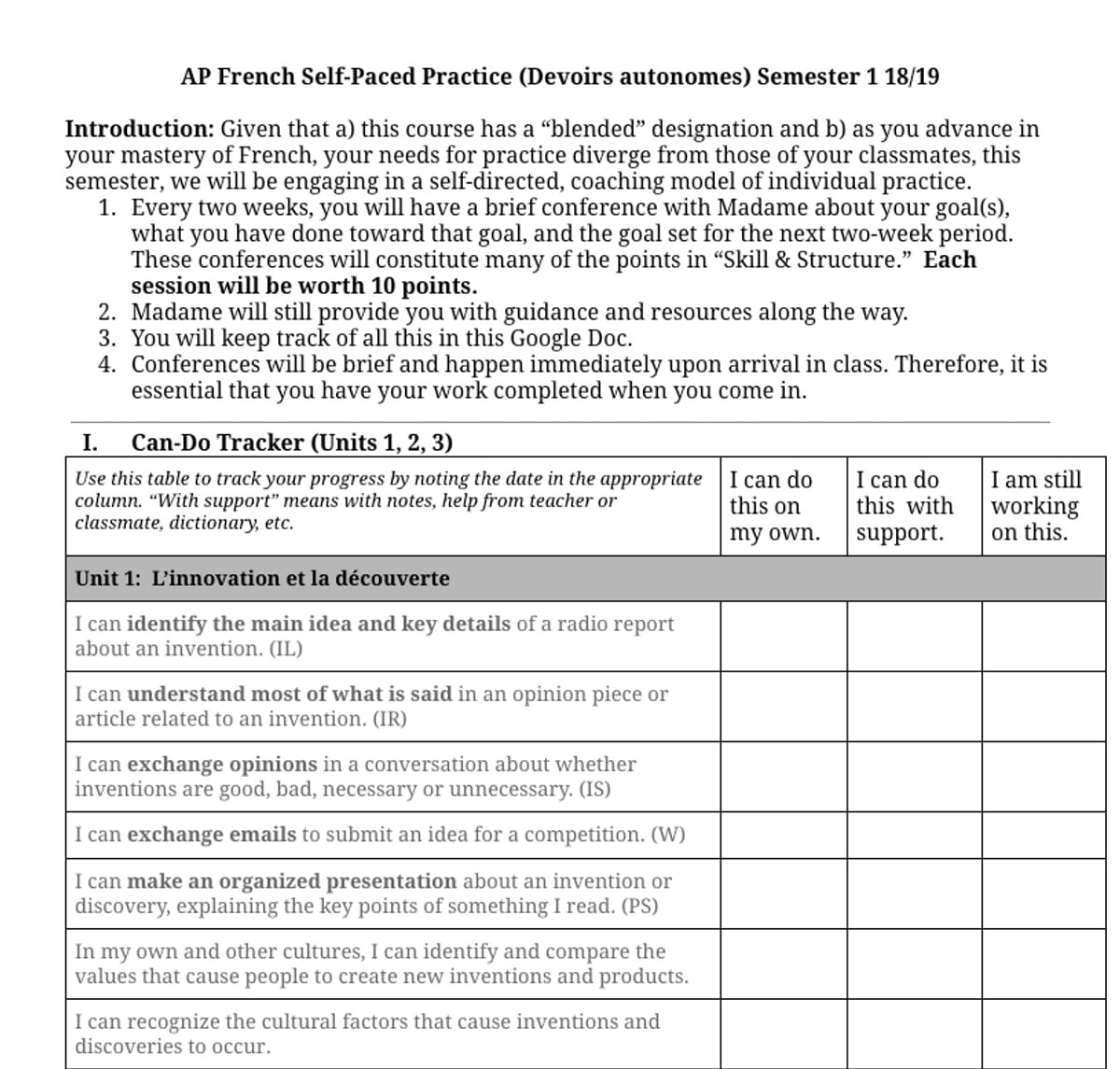 At the end of the collection of Can-Dos, I provided a template for how I wanted students to record their work:

Bi-weekly Goal Setting Template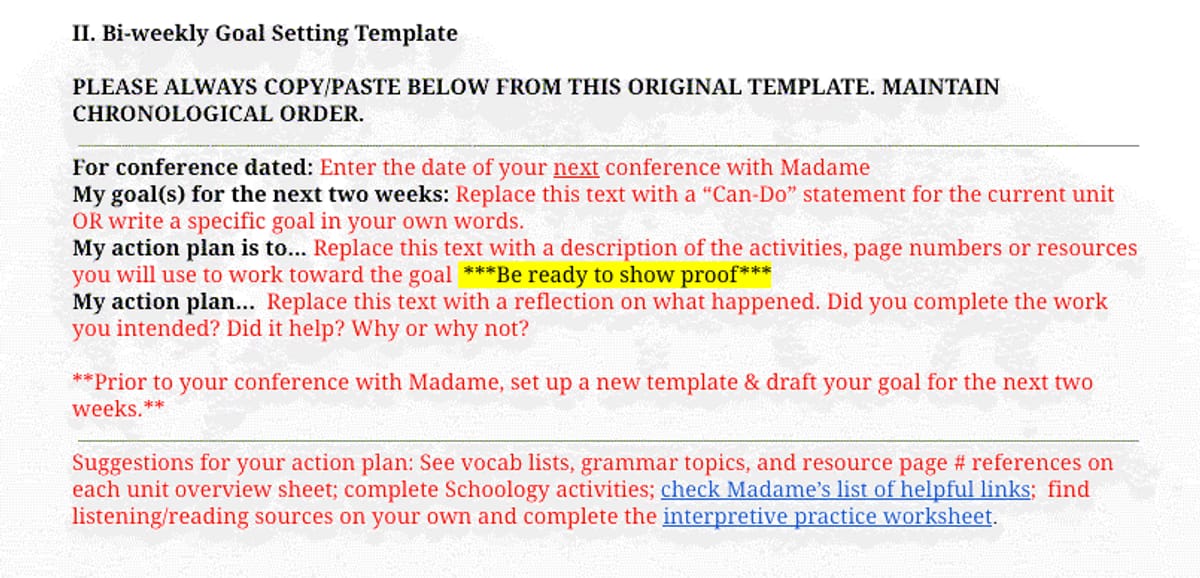 What this essentially means is that students are to review their status with the Can-Do statements, choose an appropriate area to work on, record what they did, and have a short conference with me about how it went and what they planned to do next.

Conferencing
With a class of 18 AP® students, I planned for two conferences a day, which means that I speak with each student approximately every two weeks. Other than the occasional assignment and preparing for assessments, this was the only homework students had.
Each day, I provided a discussion prompt or bellringer to keep the rest of the class occupied at the beginning of the period, and I would be ready at the back of the room to have a 1-2-minute conversation with my two designated students for the day. (I randomly selected two people each for Day 1, Day 2, etc. and have kept that rotation all year.) I usually begin the conference in French, but we switch to English if needed.
The Results
For a start, the "Gradebook Beast" is happy and well-fed with a minimal 10-point assignment in his belly every two weeks. This helps to ease my mind and not feel frantic thinking I should post more grades more often, which often seems like a lower priority in an AP®-level, discussion-based class of hard-working seniors.
The real richness of this experiment has come from the conferencing. Hearing about how students decided what to do, examining how they think to best prepare for assessments, and having them stun me with their questions and insights are all benefits I never quite expected.
For example, one of my new favorite strategies for generating a list of vocabulary and structures when constructing or revising a unit came from a student who decided that her first step in working toward the presentational speaking goal of "I can state my viewpoint about heroism in my culture and a Francophone culture and provide reasons to support it, using a few short paragraphs often across various time frames" should be to free write a paragraph in English first and then generate a list of vocabulary and structures she wanted to ask about from there. How elegantly simple! What makes this even more effective is that when a student develops one of these strategies, I'm quick to ask permission to share it with the others.
Several students have developed some type of habit management or journaling activity. I have one student who makes a list of new expressions he wants to use in class and then maintains a checklist of which ones he has worked into the discussion. I have another who keeps a record in French of conversations she has in English in other classes or in social situations on the topics we are currently discussing in class. There are several who have developed the habit of listening to podcasts or reading the news and keeping notes on new vocabulary and the main ideas of what they heard or read.
All of this has pushed me to be a better teacher. My students are wonderful about asking for me to curate more resources for them, asking questions like, "How do I get better at hearing details in a listening passage?" and causing me to clarify tasks and objectives.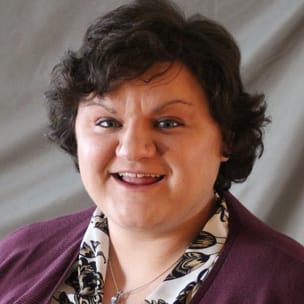 Erin has been a French educator for over thirteen years, during which time she has had the opportunity to teach every level of language learner. She currently teaches at Barrington High School in Barrington, IL, where she is a member of the Blended Learning Cohort and World Language Steering Committee.

Her achievements led to her being recognized as ICTFL Paul T. Griffith Teacher of the Year and 2018, and CSCTFL Teacher of the Year Finalist in 2019. She is a coauthor of EntreCultures 2.
More from Erin