As we all anxiously await our schools' reopening plans, much remains unknown. A series of potential scenarios could take place with short notice. While our schools may adopt hybrid schedules that combine an in-person format with a virtual one, we should be ready to transition to full-time virtual teaching at any given moment. It goes without saying that this has been an alarmingly stressful time for us as teachers, as well as for our students and their families.
In any case, it's imperative to make connections with our students no matter what; we just may need to get a little more creative this time around as we welcome our new students to our classes. Read below for some new ways to kick off this non-traditional school year.
1. "Me" Slide
Whether you're meeting students in person or virtually, a simple and fun project to complete the first week is a "Me" Slide. In this activity, students are to create a single Google Slide in which they type out their name and include adjectives in the target language as well as images that describe them. Students can then present their slides in small groups in the physical classroom, or through a video chat. For a level 1 class, provide a list of key adjectives in the target language for the students to use as a reference. For students with some language abilities, in a virtual format, allow them to create a pre-recorded screencast via a tool such as Screencast-o-Matic. In the screencast, they describe themselves at length in the target language, referencing their slide. Additionally, as the teacher, create your own "Me" slide to not only use as a model for students, but to also make instant connections with them.
2. Digital Introduction Board
Padlet is a user-friendly website that allows for the creation of a digital discussion board. As the teacher, you write the prompt and students can respond with text, a video, or a voice recording. Have each student create a written post, a video, or voice recording, in which they introduce themselves in the target language. Provide a list of questions for students to touch upon in their responses. Of course, students' abilities to respond appropriately in the target language depend on the level. Provide supports or sentence frames as needed, and create your own response to introduce yourself, too!
3. Lead with mindfulness
As described at more length in my previous blog post, "Mindfulness exercises in the target language," consider kicking off the first week of school with a mindful activity, such as a breathing exercise or yoga poses in the target language, a vision board activity, or a journaling task. Depending on the level of the course, you as the teacher will determine how much can be done in the target language. Play some relaxing acoustic music in the background and assist students in calming their minds. For example, have students create a vision board in which they focus on what they would like to accomplish by the end of the school year. Evidently, the year's events have ignited stress and anxiety for all; students will likely appreciate and enjoy a relaxing activity that allows them to focus on their future aspirations. For students at novice-high or intermediate levels, a vision board activity is an ideal way to practice using the future tense in context. Students can also participate in journaling in the target language. You can provide specific prompts, or students can free write.
4. Administer a survey
Using a simple survey tool like Google Forms, create a questionnaire for students to fill out in English or the target language. Find out more about what your students enjoy outside of school – focus on learning more about their interests. This will aid you in tailoring instruction. Moreover, ask students how they are feeling about this non-traditional school year, and give them the opportunity to express their concerns or questions. It is important to show students that you are sensitive to students' feelings during this tumultuous period, and that you always have their best interest in mind.
5. Schedule individual or small-group conferences
Since at least part of instruction will be virtual, set up mini-conferences individually with students or in small groups via Google Meet. It's critical as the teacher to engage in a two-way dialogue with every single student. This may present scheduling challenges, but do not hesitate to space these conferences out – they do not all need to happen in a single day! If you are teaching a course in which students have some language skills, this is a useful way to gauge students' interpersonal speaking skills. If we are not in the physical classroom in any capacity, it is essential to put a face to each student's name. This is another necessary way to build a sense of community in your virtual classroom.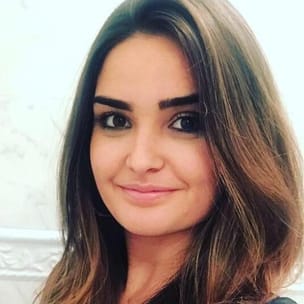 Elena Spathis is a Spanish teacher in New Jersey, and currently works at the high school level. She earned her Bachelor of Arts Degree in Spanish and Modern Greek Studies, as well as a Master of Education Degree in Language Education from Rutgers University. She recently obtained her second Master's Degree in Teacher Leadership, with a concentration in English as a Second Language.

More from Elena