Teaching often seems like running a marathon—we train and prepare, we push ourselves, and we keep going no matter what the circumstances. Reaching the end-of-year "finish line" to winter break gives us the opportunity to pause, reflect, and recharge.
I take this time to evaluate my methods and my students' engagement. Which activities did my students seem to enjoy? Which activities fostered the most growth in their speaking, writing, reading, or listening comprehension? I also take some time to organize myself, and most importantly, to decompress—we've earned it!
The start of the new year brings a sense of rebirth and renewal. It's an ideal time to seek new inspiration and to set new goals. Read on to learn about my 4 steps to start your new year off strong.
STEP 1: De-clutter your files
The time has come to critically examine your class files and activities. There is a high chance that an activity you took time to create a few years ago might not align with your current methods. From personal experience, some projects I had created at the start of my career were visually appealing, but held very little learning value. Ask yourself: Does this activity inspire me? Does it inspire my students? What is the learning value of this task? Clean out the ones that no longer serve or meet your class goals. Make room for new experiences! As the saying goes, "out with the old, in with the new."
STEP 2: Make the commitment to leave your comfort zone
As teachers, it's easy to become creatures of habit. Beware! Do not allow yourself to fall so deeply into your comfort zone that you miss out on new opportunities or experiences. Try exploring an activity or a technology tool that you have never used before. If you've never used the tech tool Pear Deck, check it out—try a drawing/listening comprehension activity, in which you read a description aloud in the target language and your students digitally draw what they hear on the Pear Deck slide. Students can then re-tell the story behind their drawing in the target language. If you haven't implemented many movement activities, try creating stations on the topic you're teaching, in which students complete a different activity at each station around the room. If you want to make some community connections, invite a guest speaker to the class who speaks the target language, or have a Skype or Facetime video chat with them. Take the plunge and take a risk! Set small goals for yourself to slowly inch out of your comfort zone, and you are likely to see some magic happen.
STEP 3: Locate and organize new resources
Online searches can lead to an overwhelming amount of resources that will leave your head spinning. Take a step back and organize yourself. First, dedicate time to find some teaching blogs that really resonate with you. Then, take a look at Twitter and see if any fellow language educators pique your interest—in particular, search the hashtags #langchat or #mfltwitterati. Additionally, find a podcast to challenge and inspire your world language teaching methods (Check out Ashley Uyaguari's Inspired Proficiency Podcast), or find a podcast to use in class with your students. In my intermediate-level Spanish classes, the podcast Radio Ambulante has been a vital, enriching tool that has not only aided my students' listening comprehension, but that also has endowed them with authentic cultural knowledge.
STEP 4: Take time for you and decompress
We as teachers are programmed to think first and foremost about our students and the learning experiences we provide for them. Remind yourself that in order to be strong and effective for your students, you must be strong yourself! Make sure that you are allotting some time to do something you love outside of teaching on a regular basis, whether it's going for a run, doing some yoga, or visiting a museum. Achieving a balance between school life and your personal life is no easy task. If you become easily stressed or overwhelmed, try out some meditations or mindful thinking practices with the help of the Calm app or with Karen Salmansohn's beautifully illustrated "Instant Calm" book that features a variety of 2-minute meditations.
Remember: there is no one way to teach a language well. Focus on engaging in self-reflection, seek new inspiration, celebrate your successes, and enjoy your well-earned resting time. Bring it on, 2020!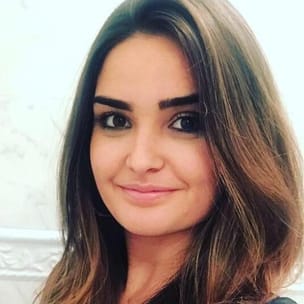 Elena Spathis is a Spanish teacher in New Jersey, and currently works at the high school level. She earned her Bachelor of Arts Degree in Spanish and Modern Greek Studies, as well as a Master of Education Degree in Language Education from Rutgers University. She recently obtained her second Master's Degree in Teacher Leadership, with a concentration in English as a Second Language.

More from Elena