This has been a year full of unprecedented events for students, parents, and teachers. Teachers and students were asked to move their active learning from the traditional brick and mortar classroom to a virtual environment. As a seasoned virtual educator, my work life was not altered very much; however, I had the opportunity to look from afar and truly admire and embrace the flexibility and the innovation that sparked across the virtual classrooms of teachers around the globe.
I believe that we must celebrate the accomplishments of all of our students. In Spanish, we would say "es importante cerrar con broche de oro" which would loosely translate into "it is important to close with a golden brooch or pin." Think of it as ending on a high note, celebrating the uniqueness of each of your students and the way they individually shined this year. How can we celebrate students in the virtual setting? Here are the Top 5 ways to Celebrate students virtually:
Hall of Fame
Create an engaging slide that you can upload to the homepage of your virtual classroom. Use photos or names to celebrate students. You could also create a Bitmoji scene of your classroom. Kids love to be recognized!
There are a lot of programs you can use, but try to keep it simple, so it doesn't become a monumental task for you. You can create appealing slides on Google Slide, Canva, PowerPoint, Keynote.
Congratulatory texts with images
In the age of cell phones and mobile devices, we must use them to our advantage. I have found that my students prefer to communicate via text, but since they get so many text messages a day, I try to stand out when I text them. How? Simply create a cute or funny image you can text.
Think outside of the box. Be goofy! Maybe include your dog or your cat with a congratulatory message. A funny meme or a kid's joke is also a lovely way to make them laugh.
I love using Canva to create images you can text. Be sure to save the image as a PNG or JPG. Remember, you can always use PowerPoint or Keynote.
Call their parents
Pick up the phone and call their parents to say something positive about them, whether it is about your class, their personality, the way they handled a situation, or simply for doing their best. I promise you, this simple call always goes a long way! I've received multiple texts from kids telling me how much something this simple means so much to them.
Video or Voice Recording
Don't think you have to be perfect at acting or editing. It's the thought that counts here. Pick up your phone and create a personalized short video message or audio message for your students. Include samples of their work in your class! You can email it, text it, or post it on your classroom homepage.
If you don't feel comfortable being on camera, try using the Animoji App and select a silly character. Making videos with the Animoji App is so much fun, and my middle and high school students still think this is hilarious.
Hold a Virtual Spirit Week
Get silly! Have fun! Hold a Virtual Spirit week in the last week of school. Encourage them to dress a specific way each day for their virtual meeting or simply submit a photo you can post on the homepage of your Virtual Classroom. Join the fun and dress accordingly!
The critical part here is to figure out what your "golden brooch" looks like so that you can celebrate the uniqueness and the way that all of your students shine. You already did a fantastic job by helping them transition to distance learning … now take some time to celebrate!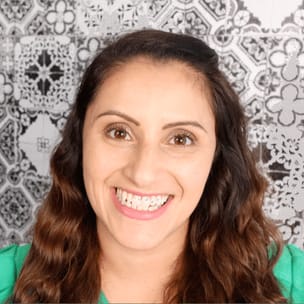 Catalina Bohorquez is an educator with experience in the brick and mortar classroom as well as the virtual classroom. With more than 16 years of experience, she draws from her life story when teaching a World Language. Catalina was born in Colombia, grew up in Venezuela, and she has lived in the United States for 21 years. Catalina arrived in the U.S. without a word of English; therefore, she truly knows what it takes to learn another language.
More from Catalina