Blog
Salvador Dalí Meets Lady Gaga: Art and Culture in the Language Classroom
The role of emotion has been referenced in language acquisition theory for decades. One of the most effective ways to elicit emotion-driven learning in language classes is through the universal medium of art. Unfortunately, visual art appears too often as a haphazard add-on or a decorative afterthought to other types of cultural content. If you feel like you lack time or resources to successfully include art in your lessons, keep reading for ideas on types of artwork and artists that will engage your high school students and promote relevant cultural learning.
Salvador Dalí and Lady Gaga
I am going to walk you through an activity from EntreCulturas 4, the next addition to the EntreCulturas series. It is an attractive, effective, and ready-made set of integrated linguistic tasks centered on the figures of twentieth-century painter Salvador Dalí (Spain) and the contemporary pop musician and performer Lady Gaga (United States).
The goal of the activity is to invite students to think about how we express ourselves and our cultural identities through art. Its structure can also serve as a model for connecting other artistic figures or works through similar resources and linguistic tasks (e.g. the influence of nineteenth century Spanish painter Francisco de Goya on films by Mexican director Guillermo del Toro; explorations of urban art or video game design in various Spanish-speaking countries and communities, etc.) Similar activities in the book go beyond visual art and provide materials for language lessons that integrate other forms of artistic expression, such as music, architecture, fashion, etc. Naturally, this model of activity can easily be adapted to include relevant content for teaching and learning other world languages and cultures.
The authentic resource used in this specific activity is a blog entry from Spain about the artistic influence of surrealist artist Salvador Dalí on Lady Gaga's musical and visual performances. The piece explores the interesting bridge between two global figures who have transcended cultural and generational boundaries through their artistic genius. All students know Lady Gaga and some of them may have seen reproductions of Dalí's famous works, so the topic is likely to pique their interest and engage their emotions as students of other cultures and of art in general. Note: The authentic resource referenced displays images that may be inappropriate for some ages of learners. We encourage you to seek out alternative authentic resources if using this with younger learners.
Step 1. Think, converse and share.
In this initial phase, students who are at the intermediate-mid level of proficiency build on previous knowledge and internalize new information. They begin the activity by reading short blurbs about Dalí and Lady Gaga and by completing a graphic organizer online with information they already know about both artists. This allows students to engage directly with the topic and become aware of what they can already say in Spanish about it. They develop interpretive and interdisciplinary learning skills, as they read about Dalí and Lady Gaga and analyze related images during this preliminary research activity.
Interpersonal oral production is also developed, as students are prompted to converse with a classmate to add new information to the graphic organizer. Students begin to reflect on important cultural aspects, such as the connection between art forms from two distinct cultural communities and time periods, as well as the social and cultural themes in Dalí's and Gaga's art. This step is also designed to promote the acquisition of new vocabulary in relation to these topics.
Step 2. Read and complete.
The second stage provides an interpretive model for reading oriented toward comprehension, analysis, critical thinking, and interdisciplinary cultural development. The activity presents key excerpts from the featured blog entry with key vocabulary terms in bold print, vocabulary notes, and glosses featuring relevant grammatical notes (i.e. instances of the use of the Present Perfect in the text). Students are instructed to scan the text for main ideas in each paragraph and they also complete their graphic organizer with different types of information from the blog.
Step 3. Respond.
This interpersonal speaking task directs students to converse in small groups in order to answer questions related to the content of the text:
1. ¿Qué semejanzas y diferencias has visto en el arte de Dalí y Gaga?
2. ¿Por qué crees que Lady Gaga ha usado elementos surrealistas en sus espectáculos?
3. ¿Qué temas universales se reflejan en las obras de Lady Gaga? ¿Y en las de Dalí?
4. ¿Qué elementos realistas y surrealistas se destacan en las obras de estos dos artistas?
Step 4. Present.
The fourth step is a presentational speaking task that invites pairs of students to prepare and deliver a presentation in a hypothetical real-life situation: they are interns working at a museum of art and have to give a talk to Spanish-speaking visitors about the connections between Salvador Dalí's art and Lady Gaga's musical and visual performances. This task is supported by specific suggestions for talking points and useful expressions that will help students create their presentation.
Step 5. Intercultural reflection.
The final stage is a follow-up activity in which students are asked to compare art styles in their home community and in the target culture. In this context, they also need to provide an example of an art form inspired by an artist from a different style or genre.
Después de conocer diferentes formas de arte y música, ¿cuáles son las semejanzas y diferencias que observas entre los estilos de las artes en tu comunidad y en la cultura hispanohablante? ¿Conoces otra forma de arte que haya sido inspirada por algún artista de otra forma de arte?
When using art in the language and culture classroom, we should remember that our students are a sophisticated audience and eager participants, as most of their informal education and socialization is mediated by visual or audiovisual art forms that are inherently multicultural (e.g. video games, YouTube videos, old-fashioned film and television, images on social media, fan art, etc.). Moreover, all of our students are creators, editors, curators, and critics of visual art for self-expression through their Snapchat and Instagram accounts. They participate in debates about the social role of art for individual and collective representation, because they are aware that online images and their commentary both reflect and shape our views on reality. Therefore, the integration of visual art in language learning is a natural fit for this generation of students and a powerful tool to engage their emotions for successful learning.
Note: The authentic resources referenced displays images that may be inappropriate for some ages of learners. We encourage you to seek our your own authentic resource if using this with a younger audience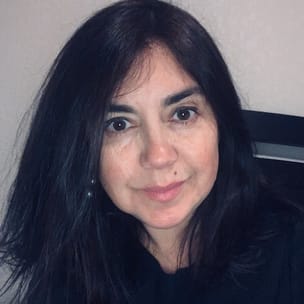 Cecilia Herrera's commitment to bringing authentic resources and real-life activities to the proficiency-based classroom is fueled by her belief in the transformative power of language learning and intercultural exchange.
More from Cecilia